7 Stunning Valentine's Day Email Examples
4 min read

Both marketers and the general public love February 14, aka Valentine's Day, for all the right reasons. It gives us a chance to express our love, share gifts, good memories, and admire the relationship. This makes it a great occasion for marketers to help customers woo their Valentine by offering discounts, recommendations, and positive vibes! In fact, over 80% of marketers find that email drives both their customer acquisition and retention efforts.
Generally, people's budgets get consumed by Christmas and New Year's costs, but there is a comeback in February. Valentine's Day is the first legitimate sales opportunity for brands following January's economic standstill. Whether you do or don't celebrate, it should be a red day on your marketing calendar.
From my experience of working at an email marketing agency, here's a list of seven nicely crafted Valentine's Day email inspirations that will melt your subscribers' hearts:
Top 7 Valentine's Day Emails That Will Steal Your Heart
Below are seven emails sent by companies on the occasion of Valentine's Day and see if they can inspire yours:
#1 Hulu
Hulu, a streaming provider, sent a beautiful email with a well-curated list of TV shows to make the comfy Valentine's night entertaining and romantic. They included the most popular TV shows that revolve around iconic on-screen couples with pieces of fine copy like "Love comes in various genres."
It is clean, minimalist, and it brings on the purpose of sending the email almost instantly, thanks to the design language. But what's really impressive about Hulu's email below is the combination of their signature styling, brand voice, and color scheme with Valentine's Day graphics:
#2 Taco Bell
Taco Bell, too, did something similar as they took advantage of the fact that people are spending time at home. They reminded customers that Taco Bell could serve a tasty meal while they celebrate love from the comfort of their homes.
Taco Bell sent a pretty adorable Valentine's Day email that had a quick menu-type layout to match the subscribers' love of their cuisine. Their images blended flawlessly with V-Day imagery resulted in this eye-catching email:

#3 UrbanStems
UrbanStems came up with a clean and subtly sweet email design as it promoted its products as a part of its Valentine's collection. They played their cards well with the instilled ambiguity as to the subject line (Just launched: New bouquets) and preheader (New week, new styles) do not refer to the holiday. However, the banner openly states, "Hello, Gorgeous," so you can sense the passion right away.
They did not deviate too far from your typical newsletter in terms of style or language. Instead, UrbanStems sprinkled in a few flirty touches throughout their copy to come with this awesome email:

#4 Pulp & Press
After looking at this email, we can surely say that Pulp & Press stole the show with their hero image game. They used their products to create a heart shape by making it look cluttered and kaboom- it is a fun-looking email that wins hearts at the first look. You might even notice that they used the heart shape to create an inverted triangle that points towards their CTA, and if you deal in similar products, this design could be a great inspiration:
#5 Resy
After you've found your sweetheart, one of the difficult things to find is a good place to dine out, and that's where Resy kicks in. This was a location-specific email meant for their subscribers in Chicago, and it contained a nice hero image and a crisp copy that told subscribers what to expect after clicking on the CTA button. They also included alternate CTA for people outside Chicago, and the overall dual-tone color scheme helped their design look simple yet refreshing:

#6 Postable
How could we forget about the nostalgic postcards on Valentine's Day? Postable knows it, and they hit the bird's eye with this beautiful email that delivers the message minus the fuss. It had a nice creative image and a straightforward copy that told you everything you needed to know about the offer. In fact, they also included the terms and conditions just below the hero image, making the email easy to scan: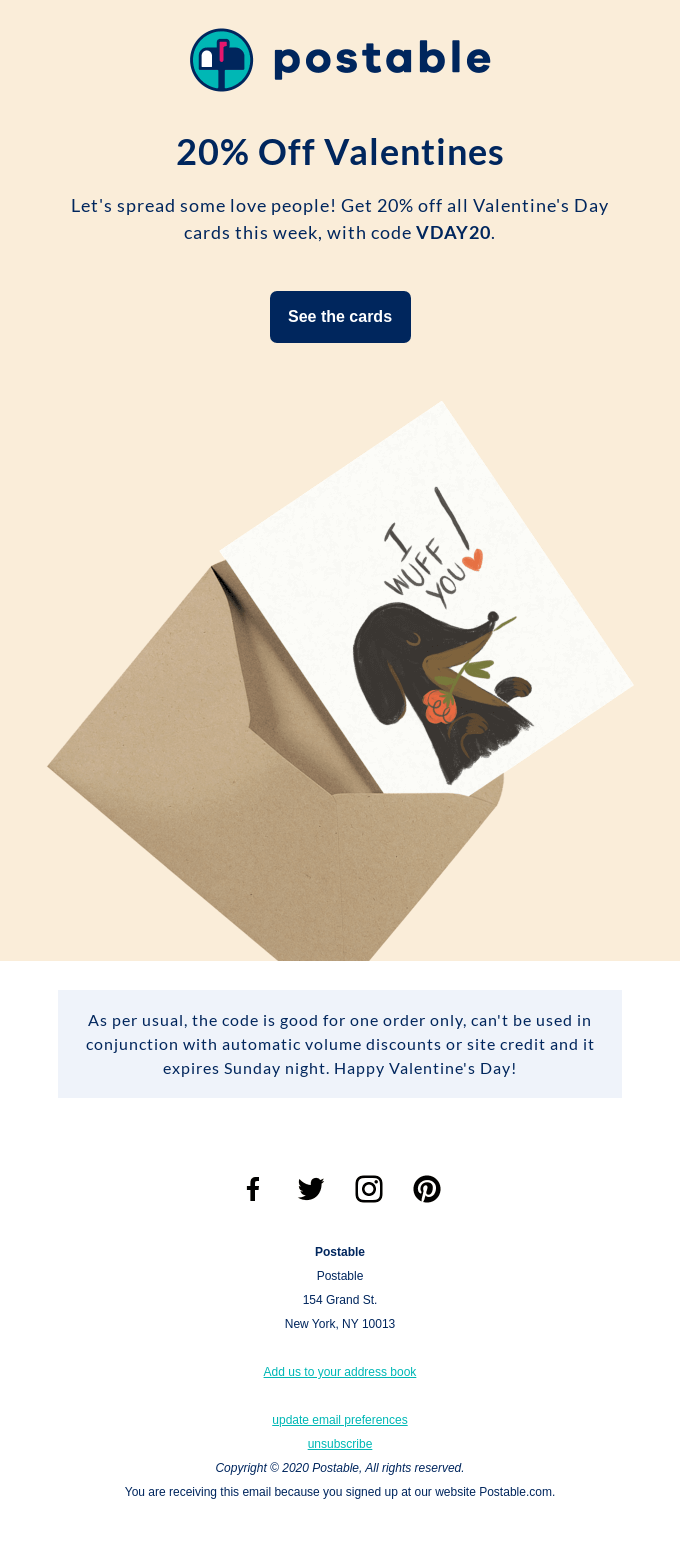 #7 Starbucks
Starbucks' marketing staff is spot on, and they are masters when it comes to making people fall in love with them! Here's how they made a V-Day email that strikes all the right chords.
The team took a minimalist approach, with a few graphics wrapped in their iconic color palette. They added yummy-looking food suggestions with Valentine's day theme with email copy as sweet as sugar to make this lovely message for their subscribers. Have a closer look to see how Starbucks created their starry customer experience right inside mailboxes:
Summing Up
Creating the ideal Valentine's Day email template may be as difficult as selecting the ideal present to express your love. But, you don't need to play it blindly as there's always some inspiration available. As an email marketing agency, we find that you can go for both a straightforward approach and a V-Day intensive theme, but you need to be very specific about providing real value to your subscribers. This includes discounts, a sense of exclusivity, and placing your product in a way that genuinely adds value to their special day!
Author: Kevin George is Head of Marketing at Email Uplers, one of the fastest growing custom email design and coding companies, and specializes in crafting professional email templates, PSD to HTML email conversion and free HTML email templates in addition to providing email automation, campaign management, and data integration & migration services. He loves gadgets, bikes, jazz and eats and breathes email marketing. He enjoys sharing his insights and thoughts on email marketing best practices on his blog.